See, I am doing a new thing! Now it springs up; do you not perceive it?
I am making a way in the wilderness and streams in the wasteland. [Isaiah 43:19]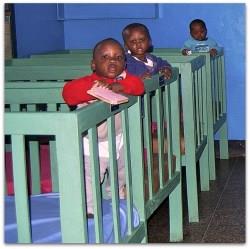 Shifting from Childreach sponsor child to Mampong Babies Home in Kumasi, Ghana.
Our sponsor child, Nicholas, turned 18 on November 22, 2022! We started sponsoring Nicholas through Childreach (PLAN) in 2012 when he was 8 years old and at 18 he "graduated" from the Childreach Pro-gram. Rather than ask for another child to sponsor the vestry approved moving our monthly sponsorship to the Mampong Babies Home in Kumasi, Ghana.
Our diocese has had a companion relationship with the diocese of Kumasi, Ghana since 2008. Bishop and Rebecca Scruton, Bishop Doug and Besty Fisher, Rev. Annie Ryder and others have visited the diocese and in particular the Mampong Babies Home.
In 2014 Rev. Betsy Fisher started the "Change the Babies" ministry to support the Mampong Babies Home. Lana was at the diocesan convention that year and brought the idea back to Holy Trinity and we have been collecting money in the "BIG Bottle" ever since.
In January you will see a new monthly sign-up sheet to sponsor the Babies Home. The sponsorship money along with whatever is put in the Big Bottle will go to Change the Babies ministry/ Mampong Babies Home.
We will keep the parish updated on the Babies Home with articles in Tidings.
A little about Mampong Babies Home …
Mampong Babies Home cares for about 50 children and specializes in taking in infants whose mothers have died in childbirth or shortly after. They are able to provide good care for the babies who otherwise would often not survive. They maintain communication with the families of origin and try to reunite the babies with relatives as soon as it is practical and safe. They also take care of abandoned children.
Epiphany Blessings,
Susan Howland