Holy Trinity Church sponsors a child in Kenya, Africa through an agency called Plan USA.
CHILDREACH SPONSOR CHILD FOR 2017
The sign up sheet has been placed on the back table of the church to help support Nicholas Onyango Okondo.
Please consider supporting this important ministry by signing up to sponsor Nicholas for a month (or two) in 2017. The sponsorship is $33.00 per month. A postcard will be mailed to you as a reminder that your donation is due. Thank you! Please make sure you note "Sponsor Child" on your check.
Our Parish Sponsored Child Nicholas Onyango Okondo
Nicholas Okondo was born on November 22, 2004; he is now 12-years old.  He lives with his mother, father, and a younger sister and two brothers in the  Nyangoma area of Kenya, Africa along the shore of Lake Victoria. (This is where President  Barack Obama's father was born and is buried.)
The family lives in a house made of mud and sticks with a corrugated metal roof. They get water from a rain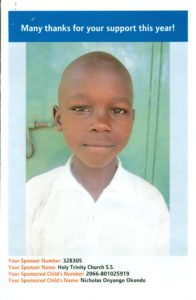 catchment in the yard, and they share a latrine with neighbors. They  are Christian and speak Luo. Nicholas walks 45 minutes to primary school.  He has started to write his own letters.
Nicholas would like to receive letters from his adopted family, and he would especially like photos and children's drawings; a birthday card is always special. (Include the information below on all enclosures.)  Whether you sponsor Nichols financially or not you can write to him.
To write include this information:Holy Trinity Church S.S # 0328305 Nicholas Onyango Okondo # 2066-801025919 (F) Kenya.
Mail to: Plan USA, 155 Plan Way, Warwick RI 02886
You can also send a letter online; go to www.planusa.org/writingtips