Welcome to Holy Trinity Church Southbridge Massachusetts an Episcopal Church in the Diocese of Western Massachusetts
Winter Parking Information: 
Here
~~~~~~~~~~~~~~~~~~~~~~~~~~~
  Unfrozen: A Christmas Story  More here
Do You Want to Meet a Savior?
UnFrozen contains a collection of skits, songs and readings to transform the same old "once upon a time" into an evening of joyful worship, playful presentation, and fresh examination into the story of Jesus's birth.
Once upon a time:These words have been the start of countless
stories. When we hear "once upon a time," we know what will follow.
A tale of adventure and wonder.
A legendary story of heroes and villains.
In the end, good triumphs over evil.
And everyone lives happily ever after.
~~~~~~~~~~~
Season Events  Here
 Greening of the Church Here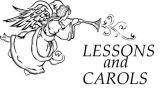 CANDLELIT LESSONS AND CAROLS  Here